During CNY, I realized that I do not have any decent looking or new looking bag I could carry for CNY... so I thought that I am going to buy a bag.
The baobao seemed versatile and light and I thought abt getting a baobao inspired bag cos the original is way beyond my budget...
While we were
in vietnam, I saw lots of stalls selling
and so I bought.. TWO;)
Finally got a chance to use them and since I had nothing to do the other day... I decided to take video of how one of my bags could change colour..
I have decided though.. after going shopping for LV bag with my friend, that when I do get back to work, I am going to buy one NICE BAG for myself!:) Hahahaha... Yes.. branded... And yes, few thousand dollars.
Max dun understand the rationale of ex bags.. But men dun understand tat every woman needs ONE GOOD BAG:) Lol
For now, I have my eyes set on this...the LV Girolta Noir but it is almost 5K sing... slurp...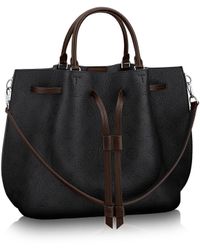 Previous Post:
Model Again